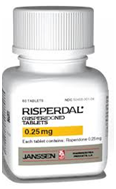 Anti-psychotic prescribed for patients diagnosed with Bipolar I disorder, Schizophrenia or irritability associated with Autism.
History: Janssen Pharmaceuticals, Inc's Risperdal received FDA approval 1994. In 2005 the FDA added a black-box warning on the increased risk of death due to cardiovascular death, heart failure or infections or sudden death from pneumonia. The FDA recalled Risperdal 3 mg. tablets and bottles containing 60 tablets due to Risperdal being contaminated with tribromoanisole, TBA, a chemical which is used to treat wood pallets.
There are currently more than 18,000 lawsuits pending in state and federal court against Janssen Pharmaceuticals, Inc. The first lawsuit against Janssen Pharmaceuticals, Inc took place in California. There have been settlements to several families totaling around $72,000,000. Johnson and Johnson agreed to a government settlement to the federal and state governments totaling $149,000,000 in fines. The lawsuit claims the company did not adequately warn of the potential side effect of ketoacidosis. The fines also settle the accusations that include improper marketing of Risperdal to unapproved markets as well as kickbacks to doctors and pharmacists in exchange for writing more prescriptions.
Related Drugs: Invega, Risperdal Consta
Mild Side Effects: Involuntary and potentially painful muscle movements, Uncontrollable sounds, and Weight gain
Serious Side Effects: Increased level of prolactin causing enlargement of breast tissue in adolescent males, Type 2 diabetes, SCD Sudden Cardiac Death
Manufacturer: Janssen Pharmaceuticals, Inc.