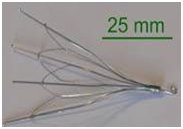 A metal shaped cage surgically implanted in the neck or leg inferior vena cava to collect clots and prevent blood clots from forming.
History: The IVC filter was a filter invented in 1969. The FDA approved the device in 1979. Since then, there have been design changes and there are both permanent and retrievable filters on the market. The first retrievable filters were approved by the FDA in 2003 and 2004. Since the approval, there have been many complications in patients reported to the FDA. In 2010 and 2014 the FDA reviewed more than 900 reports of complications and issued a device safety communication listing the complications related to the IVC filter over a five-year period. The FDA recommended removal of the device as soon as a risk for Pulmonary Embolism was a risk in patients. There have been recalls by Boston Scientific in 2005, B. Braun in 2007, Cordis in 2013, and Bard in 2015. Cook IVC filters have a high rate of perforation but with over 4,000 cases pending, they have still not recalled the device. Bard has also had a high failure rate with the G2 IVC filter that has been responsible for 27 deaths as of 2015 but the filter has not been recalled. The FDA cannot recall devices that are not on the market and companies usually issue voluntary recalls. The first Cook IVC Filter lawsuit resulted in $1,200,000 settlement. The first Bard IVC Filter lawsuit resulted in a $3,600,000 settlement. There are currently over 8,000 IVC filter lawsuits pending in federal court. The claims state the IVC filter causes serious complications or death.
Procedural Complications during insertion – Bleeding and/or bruising at access site, Blood vessel puncture, Incorrect placement, Defective filter deployment
Retrieval Complications during removal – Blood vessel perforation, Large clots that prevent device removal, Difficulties retrieving device causing extended surgical time, Scars that prevent removal of device.
Serious Side effects – DVT- Deep Vein Thrombosis Device infection, Device migration to another part of the vena cava or other organs, Embolization, Filter fracture or breakage, Perforated organs
Sources: https://www.sciencedaily.com/releases/2017/07/170710113657.htm
https://www.fda.gov/downloads/medicaldevices/safety/alertsandnotices/ucm396384.pdf
https://www.drugwatch.com/ivc-filters/