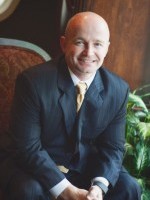 Jeffery C. Metler
Personal Injury
Biography
Jeffery C. Metler was born and raised in Utah. He graduated from Brigham Young University in 1999 and later attended both the University of Idaho Law School and J. Reuben Clark Law School at Brigham Young University.
Jeff's practice is dedicated to handling only personal injury and wrongful death cases. His clients are located throughout many of the Western United States and include multi-million dollar settlements.
Highlights of Jeff's practice include being named in February 2012 and 2013 as one of The National Trial Lawyers Top 40 Under 40 for Utah, Utah Valley Magazine's "Top 40 Under 40," a 2008 "Up and Coming Attorney" in Utah Business Magazine, the president of the Central Utah Bar Association from 2008 to 2009, a member of Utah Trial Lawyers Association and American Trial Lawyers Association, and is a general counsel to the Utah Chiropractic Physicians Association.
Education
 J. Reuben Clark Law School at Brigham Young University
 University of Idaho Law School
 Brigham Young University