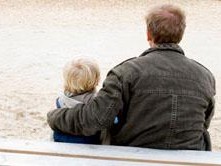 Family Law
The end of a marriage is one of the most stressful events a person can have in life. MacArthur, Heder & Metler is committed to handling these painful experiences with compassion and professionalism.  We believe that each family law problem is unique and requires a customized solution.
We recognize that divorce and child custody issues carry a potential to damage husbands, wives, and children—and the respective relationships with each other. In our representation, we seek to limit the damage divorce causes to both individuals and these precious relationships with legal expertise that makes a positive future possible and helps wounds begin to heal. At MacArthur, Heder & Metler, our first priority is to understand your individual, unique situation, including your short- and long-term goals for yourself and your family.
Our family law practitioners are dedicated to turning problems into solutions. We believe that a successful family law outcome requires more than just a stipulation or court order—it requires guiding our clients to a workable resolution, peace of mind, and security.
If you or a loved one is facing a divorce, dealing with any difficult domestic circumstance, or if you have questions about your legal rights with regards to separation, divorce, custody, or visitation, we invite you to contact our firm to receive personalized, compassionate, and effective legal guidance.