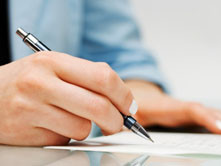 Contracts
Whether you are in need of a simple building or equipment lease, or you are contemplating the merger or sale of your corporation or its assets, MacArthur, Heder & Metler can give you the guidance and confidence you need to ensure that the final documentation will reflect and protect your interests and goals.
Having represented both individuals and entities in deals ranging from less than $50,000 to over $220,000,000, we approach each client and case with the same fundamental commitments: (1) we must be competent, (2) we must communicate, and (3) we must meet or exceed expectations.
The vast majority of our clients come by referral from other clients or professionals. For us, this demonstrates that our focus is the right one. For you, this signifies that we won't be satisfied if you're not pleased and ready to refer us to your friends.