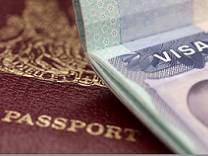 Immigration
ADJUSTMENT OF STATUS
Adjustment of status is the process by which an eligible individual already in the United States can get permanent resident status (a green card) without having to return to their home country to complete visa processing. This is generally based upon a petition filed for you by a family member or employer. Once you have determined your eligibility, it is important that you follow the correct procedure and complete the forms accurately. Contact us today to schedule a consultation to evaluate your eligibility and begin your Adjustment of Status!
CONSULAR PROCESSING
Some individuals who have an approved family or employer petition are not eligible to pursue an Adjustment of Status from within the U.S. Consular processing is an alternate process for an individual who is outside of the United States (or who is in the United States but is ineligible to adjust status). Through this process, an individual obtains a visa at a consulate abroad and enters the United States as a permanent resident).  Depending on your history, there are many potentially severe pitfalls you must be aware of in this process. Consulting with a knowledgeable immigration attorney will help you know what the dangers are and the correct way to pursue your case. Contact us today to schedule a consultation!
NATURALIZATION/CITIZENSHIP
There are many rights and freedoms that are granted only to U.S. Citizens. The naturalization process is the way an individual may become a U.S. citizen. It requires that the person have a greencard, spend a certain length of time in the U.S. as a permanent resident, show that they are a person of good moral character and pass and English and Civics exam. The process differs depending on how the individual became a permanent resident.  Contact us to schedule a consultation and evaluate whether you are eligible to take this important and wonderful step!
VICTIM VISAS
The U.S. immigration laws provide special visas for certain victims of crimes.  This includes victims of domestic violence, human trafficking and other serious crimes that cause mental and physical suffering. If you have been the victim of a crime, contact us to schedule a consultation regarding your eligibility for a visa.
WAIVERS
If an individual has entered the U.S. illegally, overstayed a visa, or committed certain crimes while living in the U.S., they will need a waiver (a pardon of inadmissibility grounds) to be able to stay in the U.S. or come back to the U.S. Many waivers require that the individual prove the hardship that their family will suffer if they have to leave the U.S.  Unfortunately, many people misunderstand the waiver process and believe that a simple letter is sufficient. Waivers require showing extensive proof of your hardship and a lot of organization. Contact us today to schedule a consultation regarding your waiver and to begin the process of proving the hardship your family is facing!