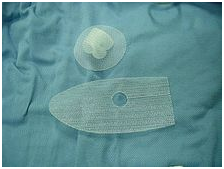 A medical device used to repair muscle and tissue related to damage, incision, or tears.
History: The FDA approved medical mesh for use in the 1950's. In 1996 the FDA approved Boston Scientific's ProteGen transvaginal medical mesh for stress urinary incontinence. There was little testing done on the device as the appearance was similar with what was already on the market for hernia mesh and cardiac repair mesh. In 1998 the FDA approved Gynecare TVT vaginal mesh sling by Johnson and Johnson for transvaginal use. The FDA approved the mesh based on the similar appearance to the medical mesh manufactured by Boston Scientific. In 1999 Boston Scientific recalled the ProteGen after complications were reported.
In 2002 the FDA approved the first medical mesh for use to repair Pelvic Organ Prolapse.
Since the approval of mesh by the FDA for use in repairing the pelvic floor, many complications were reported to the FDA. Warnings were issued by due to the complications reported by patients.
There are currently over 1,300 mesh lawsuits pending in federal multi-district litigation suits. The claims state the manufacturers have design flaws and the mesh causes internal injuries and chronic pain among other complications. There have been settlements that have reached millions in past litigation.
Mild Side effects –  Fever, Infection, Infrequent bowel movement, Nausea, Pain
Serious Side effects –  Blood clots, Excessive bleeding, Mesh failure causing Hernia recurrence, Bowel obstruction, Organ injury or perforation, Mesh shrinkage, Mesh migration, Severe pain and swelling.
Manufacturer: Atrium, Bard, B. Braun, Ethicon, Gore Medical, LifeCell Corporation, Medtronic, TELA Bio.
Sources :
https://www.accessdata.fda.gov/cdrh_docs/pdf9/k093932.pdf
https://www.drugwatch.com/hernia-mesh/
https://www.drugwatch.com/news/2015/08/06/200-million-bard-mesh-settlement/