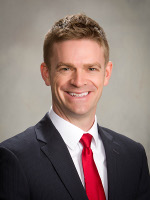 Jared Stubbs
Civil Litigation - Business Law - Employment Law - Criminal Law
Contacts
jstubbs@mhmlawoffices.com
Jared graduated from Brigham Young University with a degree in Political Science in 2001. After graduating from Brigham Young University, Jared spent two years working in Washington D.C. for the U.S. Senate Energy Committee.
In 2006 Jared graduated with his Juris Doctorate from Gonzaga University School of Law. Upon graduating he clerked for the Honorable Monte Carlson in the 5th Judicial District in the state of Idaho. Jared then went to work for the City of Boise where he worked as a prosecutor and tried numerous of jury trials.
Jared's practice focuses on civil litigation, business law, employment law, and criminal law. He is licensed to practice law in Idaho and in Utah. Jared speaks fluent Spanish.
Practice areas
• Employment law
• Criminal Law
• Civil Litigation
• Sexual Harassment
• Gender, racial, and disability discrimination
• Minimum wage requirements of the Fair Labor Standards Act (FSLA)
• The American's with Disabilities Act (ADA)
• The Family and Medical Leave Act (FMLA)
• Department of Occupational and Professional Licensing (DOPL)
• Non-compete, non-solicitation, and confidentiality agreements
Bar admissions
• Utah, 2012
• Idaho, 2006
• U.S. District Court, District of Utah
• U.S. District Court, District of Idaho
Education
• Brigham Young University, BA Political Science, 2001
• J.D., Gonzaga School of Law 2006